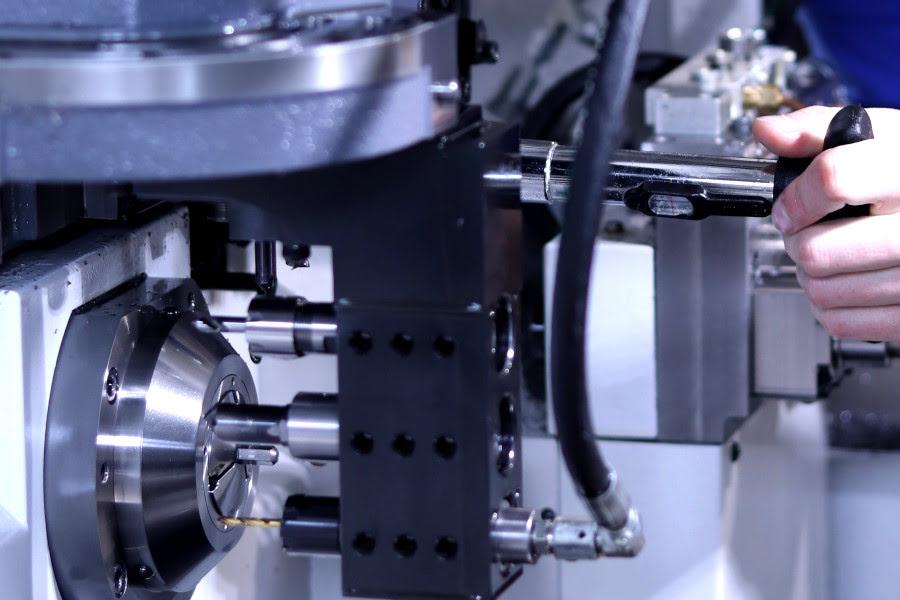 What is CNC machining?
CNC machining is a manufacturing process that converts raw materials into a finished product. Computer-controlled machine tools called CNC machines are used for this. This is a more modern version of conventional machining. There, an operator using knobs and levers is responsible for the machine's movements.

The implementation of automatic control systems in machine tools has contributed to a significant increase in productivity, precision, and repeatability of the process. However, the basic principles of machining have remained largely unchanged.
What does CNC machining consist of?
Part fabrication involves removing a material layer from a block of raw material to achieve the designed shapes of the part. Depending on the desired geometric characteristics of the product, we have a number of types of machining, such as milling, turning, drilling, grinding, etc. Dedicated machine tools characterized by appropriate kinematics are used for each type.

Current state-of-the-art CNC machining centers have built-in control systems that enable fully automatic operation, making it possible to mass-produce large quantities of precision components utilized across diverse industries such as automotive, aerospace, construction, agriculture, railroads, and numerous others..
What is a CNC machine?
A CNC machine is a mechanical device adapted to perform specific tasks based on a computer program. Such computer-controlled machines have been with us for nearly 70 years. In 1952, American engineer John Parsons developed the world's first machine tool controlled by punch cards. This was for the high-volume manufacturing of helicopter parts. A lot of time has passed since then, and CNC control systems have advanced. However, that moment can be considered a milestone in developing industrial manufacturing techniques.
What kinds of CNC machine tools exist?
A very wide range of machines using computer control are used in industry. All kinds of plasma cutters or 3D printers are CNC machines. However, in our CNC machining industry, there are three basic types of machine tools:
Turning centers
In most cases, lathes today are interchangeably called CNC lathes or CNC turning centers. A CNC lathe is a simpler 2-axis (X and Z axis) machine that is computer-controlled and generally has a single spindle.

CNC turning centers are also computer-controlled but are usually more powerful and may have three or more axes with more versatile capabilities and applications such as turning, drilling, threading, and milling with driven tools. It is also common for them to have an auxiliary spindle. CNC turning centers have greater production capabilities than CNC lathes.
Milling centers
These are, as the name suggests, machine tools designed for milling. There are very many machine configurations in this group. The simplest is the classic vertical 3-axis milling center. It has a spindle, which moves along one axis, and a table on which the workpiece is clamped. The table moves along the other two axes. In addition to 3-axis machining centers, 4- and 5-axis machines are commonly used. In addition to the number of axes, milling centers also differ in the position of the spindle. In this case, we distinguish between vertical and horizontal centers.
Multitasking machine tools
Multitasking machining centers are a relatively new design development. These machines combine the advantages of turning centers and milling machines. They are designed to produce complex parts requiring multiple operations of both turning and milling. The main advantage of these machines is the ability to produce a finished part in a single machining process without transferring it between different machines. Multi-tasking machine tools usually have two spindles and a milling head. This head can work at any angle, which, combined with advanced control, allows the machining of the most demanding components, such as connecting rods, turbines, and many others.
Machined materials
The popularity of CNC machining technology in industry is largely due to its versatility. This refers to the possibility of machining a wide variety of materials. Modern machines and advanced cutting tools allow work even in very demanding materials such as titanium alloys. In general, however, several basic material groups suitable for machining can be distinguished:
Advantages of CNC machining
Efficiency
CNC machining is an extremely efficient process. This is a direct result of the nature of computer-controlled machines. The automatic movements of the machine tool are much faster than the movements for which a human is responsible. Moreover, thanks to automation, 24/7 manufacturing is possible. Also important is the easy ability to scale the manufacturing of one part to multiple machines.
Accuracy
Thanks to the use of advanced drives to move machine axes and precision controllers, today's machine tools make it possible to achieve very tight tolerances in manufacturing parts. Machine manufacturers are introducing more and more new solutions to push the limit of achievable accuracy constantly. It is worth mentioning, for example, the temperature compensation of the machine axis, thanks to which the phenomenon of changes in dimensions due to the heating of the machine tool is neutralized.
Repeatability
One of the basic features of CNC machining is repeatability. This was the primary goal of the developers of this parts manufacturing method. Using computer control of machine movements avoids the influence of human error. As a result, the machine identically produces parts all the time. Of course, the dimensions of the parts produced are affected by a whole range of other factors, but it is possible to control them.
Speed
Modern CNC machine tools are incredibly fast. They are designed for parts manufacturing even in the millions. Because of this, every second of the process counts. Hand in hand with the machines are advanced cutting tools. Engineers are constantly analyzing new materials and coatings possible for the cutting process. As a result, it is possible to achieve manufacturing times for finished parts that count in seconds.
Versatility
CNC machine tools are produced in a wide range of configurations. Depending on the needs, machines are available for manufacturing tiny prosthetic implants in dentistry and heavy centers for machining marine engines. In addition, the flexibility of the control of these machines allows them to be used for both prototype manufacturing and rapid high-volume manufacturing.
Cost-effectiveness
Thanks to the ease with which the process undergoes automation, it is possible to reduce the costs generated efficiently. The possibility of manufacturing without or with limited human involvement primarily influences this. In addition, precision and repeatability reduce the cost of scrapping defective parts.
Safety
CNC machines are designed to operate in industrial conditions, which entails very high safety requirements. Manufacturers take care of multi-level operator protection. It should be mentioned here, for example:
Anti-collision systems, whose task is to stop the machine in an emergency automatically, are also becoming standard.
Application of CNC machining
Today, CNC machines are found in almost all industries. Both amateur enthusiasts and large corporations use them. Their popularity in the industry is due to several unique features and advantages, some of which have been discussed above. If one were to look closely at most of the items surrounding us, virtually all of them were created with CNC machining. From household appliances or electronics of all kinds to cars, airplanes, and other means of locomotion. In terms of the largest scale of manufacturing, several sectors must be mentioned:
CNC machining at Sabner
Precision metal machining is our specialty. We work with modern CNC-controlled machine tools, allowing us to manufacture precision metal parts for customers in many industries. The CNC services we offer stand at the highest level, thanks to our many years of experience in the machining industry.

Our versatile machinery allows us to machine most of the materials available. Thanks to our state-of-the-art CNC machine tools, we can perform precision parts machining of brass very efficiently and precisely. Brass is a metal susceptible to cutting. However, to machine it efficiently, it is necessary to have the appropriate experience of technologists responsible for the process.

CNC machining of stainless steel is another big part of our offer. Stainless steels are particularly prevalent as a raw material used in machining due to their anti-corrosion properties. Hence, many precision components are manufactured from this type of metal.

CNC machining of metals is a technical field that requires a lot of knowledge and experience. In our company, we have been dealing with metal machining technology for many years, which has allowed our engineers to accumulate adequate practice and the right approach to even the most difficult challenges. As a result, the CNC machining we offer is always carried out efficiently and effectively.

Only this approach allows us to realize precision metal parts manufacturing for so many industries successfully. So, if you are looking for a company that offers CNC machining services based on modern equipment and expertise, send us your quote request. Our specialists are at your service.
Do you need help with CNC machining?