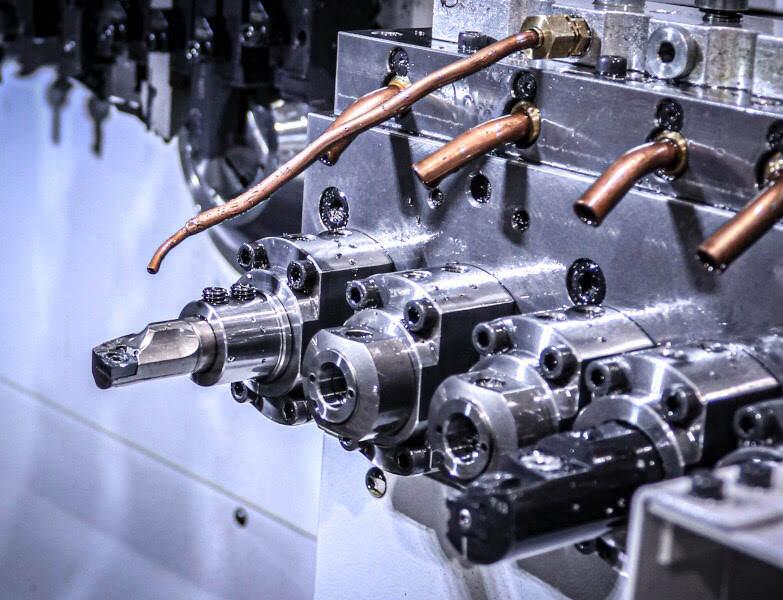 What is CNC turning?
Along with milling, turning is one of the two basic machining technologies. It involves separating a material layer from a workpiece using a turning tool. With this technology, the workpiece rotates while the tool is stationary.

Turning is a combination of the rotary motion of the workpiece and the linear motion of the cutting tool. The movement of the tool is usually along the axis of the turned part, which allows the diameter of the part to be changed. The second common case is the movement perpendicular to the axis of rotation – then we have to deal with planning, that is, changing the length of the workpiece. There is also a third variant of the tool's working motion – in both directions simultaneously. Then, we are dealing with profile turning, which allows us to obtain cones, barrels, and other curves.

Precision turning of technical components is a process that requires a lot of experience and excellent equipment. The high-quality requirements and tight manufacturing tolerances of turned parts make every detail necessary in the machining process. At Sabner, we have been turning on automatic lathes for years, so we can offer CNC turning services at the highest level.
CNC turning of stainless steel
Stainless steels are a particular group of alloy steels. They are treated separately due to their industrial importance and wide range of applications. However, turning stainless steels can be problematic, especially for austenitic grades. In such cases, proper chip control and efficient coolant supply directly to the cutting zone are paramount. It is worth using special grades of stainless steel with improved machinability by adding appropriate alloying additives such as sulfur or lead.
CNC turning of brass
Brass is the most common of the nonferrous metals used in CNC turning. As with stainless steel, its popularity is due to its unique properties, which part designers desire. For turning brass, special tools with sharp geometry and often polished cutting edges are used to maximize their life. Correctly selected tools, however, allow high-speed and efficient machining, as brass is a metal that poses little resistance to cutting.
CNC turning of steel
Steels are the primary material for manufacturing most turned parts. Their machinability varies depending on alloying element content, delivery condition, and heat treatment. In CNC turning, a basic division into three groups of steels is relevant:
Carbon steels
It is a group that includes steels with a carbon content of up to 0.55%. Machinability is average for this type of steel. Particular problems, in turn, are caused by grades with lower carbon content – the so-called low-carbon grades, which cause problems with chip breakage and build-up on the cutting tool edge.
Low-alloy steels
This group includes all the most popular grades of steel. These steels are the most popular for turning parts that are not very demanding in terms of strength. Their machinability depends on the composition but is generally reasonable.
High-alloy steels
This is a group of steels that contain a number of alloying additives that affect their properties. For steels of this group, when turning, the machining parameters should be adjusted to the specific grade and the state of hardening with possible heat treatment or thermochemical treatment.
Basic CNC turning operations
External turning
External turning is among the basic operations used in CNC machining on lathes. It involves removing material from the outer cylindrical surface of the material. It is divided into longitudinal turning, profile machining, and face turning.

In each of these cases, special attention should be paid to the proper selection of tools and fixtures for the specifics of the part. The first focus should be on proper workpiece clamping for maximum rigidity. Indeed, the ability to precisely rotate the workpiece is fundamental to achieving tight dimensional tolerances.
Internal turning
This turning category, otherwise known as internal turning, is characterized by a difficult choice of machining strategy due to the limitation of the working area by the diameter of the hole in the workpiece. Similarly problematic is the hole depth, which determines the necessary tool overhang.

The basic principle in internal turning is selecting a possible rigid tool. It will always be a tool with the most significant possible cross-section of the shank that will fit into the bored hole. This is to minimize the risk of vibration. Another critical factor in this operation is effectively removing chips from the machining zone. Because of the limited accessibility to the chip formation area, feeding coolant under pressure through the tool shank works very well. This allows them to be efficiently flushed out of the machined hole.
Parting off and turning grooves
This is a very broad category of turning, encompassing both material cutting and external and internal grooving. When it comes to parting off, the primary considerations to be considered in planning the process are material saving and reduction of cutting force. This determines the selection of a tool as narrow as possible with a geometry suitable for creating a narrower chip than in groove turning. This is dictated by the specific operating conditions of the parting tool, which works very deeply into the material. A chip that is too wide would risk jamming in the groove and ultimately damaging the tool.

As for groove turning, this workaround includes a number of specific operations, such as general groove turning, ring groove turning, face groove turning, profile machining, and undercutting.
Turning threads
It is very common for turned parts to have helical coils cut into the surface of the workpiece, either internally or externally, called threads. They are cut to create a mechanical attachment between two threaded parts or to allow the transfer of motion by converting rotary motion into linear motion or vice versa. Turning threads on CNC machines can be done using tools with cutting edges and monolithic tools. The most common technique is using tools with specially shaped inserts corresponding to the thread profile. In a few or a dozen passes of the tool, a correctly shaped thread outline is obtained.
CNC turning at Sabner
To ensure high efficiency in precision parts manufacturing for larger series, we have equipped our turning centers to operate in automatic mode, where the machine feeds itself the material for subsequent parts. The modern control of our lathes allows us to program complex shapes that are impossible to make on conventional lathes quickly. The starting point for machining on lathes is a 3D model of the part we want to machine. Working on such a model, our specialists can design the toolpaths along which the machine will guide the tools to obtain the finished product. An additional benefit of using a theoretical model is the ease of making any corrections that may occur while working on the product. Once CNC machining is completed, it is possible to continue machining on other machines or heat treatment, thermo-chemical treatment, galvanizing, and many others that complement the metal parts manufacturing process.
Need help with CNC turning